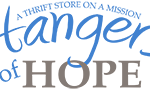 Website Hangers of Hope
Hangers of Hope A Thrift Store on a Mission
Hangers of Hope, A Thrift Store on a Mission, is expanding and looking for hard working, friendly faces to join our team!
Our stores are conveniently located on the Loop next to Chucky Cheese at 920 WSW Loop 323 and in Highland Village at 3826 Troup Hwy, near 1 Super Foods, Tyler, TX. We offer paid training, weekly pay, and room for advancement.
Our thriving and dynamic thrift stores are seeking to fill multiple positions as sales floor associates ($9.25-hr), Dock/Donor Door ($10.00-hr), and as production staff workers ($9.25-hr). We are looking for energetic, motivated and goal oriented people to join our teams.
Most positions are part-time regular 29-hrs scheduled over 5 days.  Evening 4-8pm and Saturday Only positions also available.
Ideal sales floor candidates will have a history of cashier/sales experience, strong customer service skills, be adaptable to change, possess an eye for order and presentation and be upbeat and possess a positive attitude.
Desired qualities for our production staff positions include previous retail/stock room experience, attention to detail, strong organizational skills, ability to concentrate with little distraction, and knowledge of fashion, styles and trends.
Dock/Donor Door position requires strong customer service skills and involves strenuous heavy lifting for duration of shift loading/unloading cars, trucks, trailers and U-Haul trucks.
For all positions previous experience in the thrift industry is a plus!
All candidates for 29-hr positions must be available to work both Mondays and Saturdays.
All candidates must be available to work shifts scheduled between 8:30am and 5:30pm, for production positions, and 9:00am and 8:00pm for sales floor positions, be at least 18yrs of age and be able to safely lift 30 lbs.
Job Type: Part-time
Pay: $9.25 – $10.00 per hour